Investment Philosophy
The Chain Bridge Bank, N.A. investment philosophy has four key principles: 
1. Diversify broadly;
2. Allocate prudently; 
3. Pay close attention to investment costs; and
4. Stay the course.
Diversifying a portfolio to model the breadth of the global economy, allocating it to fit the needs and objectives of the client, minimizing the costs associated with investing, and staying the course through economic cycles is the best strategy for maximizing investment returns over the long run. 
Chain Bridge Bank, N.A. uses low-cost, broad-based, total market index funds to execute this strategy. 
Not only does Warren Buffett recommend the passive investing approach, but numerous academic studies including those of Nobel Prize-winning economist Eugene Fama, have found that 
few active managers beat their reference markets over the long term. Due to the high costs of active management, on average and over time, active managers underperform the markets. The costs that drag down their returns include management fees, turnover costs, bid-ask spreads, administrative costs, commissions, market impact, and taxes.  Over time, the amount by which active managers lag the markets compounds into large sums.
By following a strategy of passive indexing, the Chain Bridge Trust & Wealth Department aims to minimize such costs and to thereby help clients capture as close to the markets' returns as possible.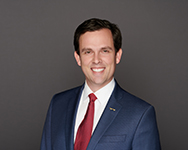 Gregory Smolen
Vice President
Trust & Wealth
Department Manager
Investment products and services are:

Chain Bridge Bank, N.A. offers investment products, which may include bank managed accounts and custody, as part of its trust and fiduciary services. Investment products, including but not limited to, stocks, bonds, mutual funds, and exchange traded funds are: not FDIC-insured; not a deposit or other obligation of, or guaranteed by, Chain Bridge Bank, N.A.; not guaranteed by any Government agency; and subject to investment risks, including possible loss of the principal amount invested.
---
Chain Bridge Bank, N.A. and employees do not provide tax, legal or accounting advice. Information presented on these web pages is not intended to provide, and should not be relied on for tax, legal and accounting advice. You should consult your own tax, legal and accounting advisors before engaging in any financial transaction.