Digital Banking

LAUNCHING JULY 28TH
Welcome to our new consumer Digital Banking platform.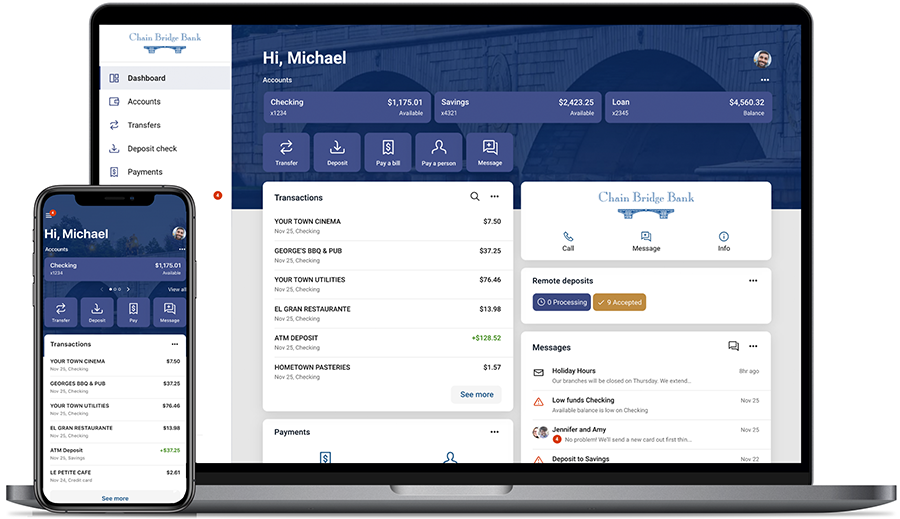 ACCOUNTS
Open new accounts

View your balances, statements, documents and notices all in one place.

Set account nicknames and customize your display in the accounts dashboard.



CARD MANAGEMENT
Block transactions made out-of-country.
Get notified about certain purchase types, and block transactions at an array of vendor types. 
Set a custom spending limit of $500 (or $5,000). 
Alerts for high or low balances or transaction amounts.
PAYMENTS
Zelle (Coming Soon)
Bill Pay
Bank-to-Bank transfers
TRANSACTIONS
Tag and add notes to transactions and attach images of receipts associated with the transaction.

Deposit checks on mobile devices with remote deposits.

AUTHENTICATION
Enroll in two-factor authentication
Take advantage of biometric or 4-digit passcode access
Self-service account recovery makes it easy to recover forgotten passwords. 
Switch between accounts easily on mobile.
DIGITAL WALLET
Use your phone to make purchases faster and more secure in stores and online.

Enroll in Apple or Google Pay.
How to prepare for the new experience
LOGIN INFO: Your username and password for online and mobile banking will remain the same. You will need your username and password before you can start using biometrics such as Face ID or Touch ID in the new app.
CELL PHONE NUMBER: Please be sure the bank has your most up-to-date cell phone number in the system.
APP UPGRADE: The app will notify you to download our new app in the App Store or Google Play when it is ready.
EXTERNAL TRANSFERS: If you utilize the current FI-to-FI in the system, you will need to reestablish the transfers in the new Digital Banking suite.
ALERTS: Current alerts will need to be reestablished in the new Digital Banking suite.
BILL PAY: Existing bill payments and payees will automatically transfer to the new system. 
This conversion does not impact Treasury Management clients.